After he started from the sixth row of the grid, Red Bull KTM Tech3's Marco Bezzecchi lost some positions on the initial laps of the Thai GP, but was back fighting at half time of the race and made up one position by another. With three laps to go he reached the top 10 and delivered a fantastic fight to eventually see the chequered flag in P10, which equals his best result this season.
At the same time, Philipp Öttl didn't come off the line well and found himself at the back of the field after the first corner. Yet, the ambitious German found a consistent rhythm and also managed to make up some places until he arrived in a hard battle for the top 20. Öttl crossed the line at the scorching Chang International Circuit in 22nd.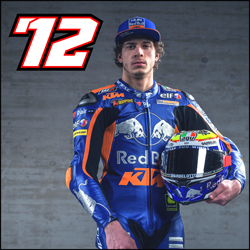 Position: 10th
Championship: 21st
Points: 17
---
"It was a good race, very long and hot, but I managed to keep all the energy and the bike was working well. From six laps to the end, I was very fast and I started to overtake many other riders. I could catch the riders in front of me and I was able to stick with them and pass them later. I had a good fight and I'm very happy, because finally we have some decent races. The team did a very good job, as usual, they work really hard. Now I have a little bit of rest and train and then it's off to Japan!"
Position: 22nd
Championship: 33rd
Points: -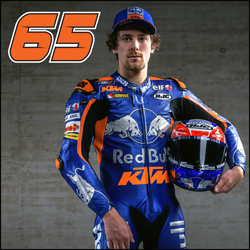 ---
"Friday was great. Yesterday we struggled a little bit to go faster. When I'm back home, I definitely need to find out why this happened. This morning, we had an issue with the clutch, so I lost half of the Warm Up, but the team was doing a great job and could fix it in less than 10 minutes, so I finally got a few laps in before today's race. My start was a bit difficult, but then I managed to recover and close the gap to the front slightly. From then on, it was a fun race. It seems like the soft front input is a great thing and I will try to do this also in Japan and the following rounds.""
---
"I'm very happy and very proud. We said it at the beginning of the year, but it was not easy to believe for some of the team members, but work pays off, believe, never give up – it's something that is in the racing DNA and today Marco showed that he's becoming a better and better Moto2 rider race after race. We had to fight through a few difficult moments during the season, but what I like with Marco and what I'd like to thank him for, is his dedication, his smile, he always positive attitude, even though a session or a race is not going the way he wants, the next session or the next race, he is there pushing. Today he did a great race, the position on the grid was not amazing, but he had a good start, passed many riders and ended up top 10, which is what we were looking for and this is a top result for us. So, I would like to thank him and congratulate him, as well as his whole crew, because everybody is doing a great job. I'm glad that - although Moto2 will be over for us next year, there is still a strong team spirit inside the Red Bull KTM Tech3 Moto2 garage. I think, Philipp for sure is a bit behind, but he is also learning. I have been hearing what he is going to do next year and I think this is also because people can see how serious and strong he is pushing. I'm glad he has a good job for next year, it will be up to him to announce whenever and wherever he wants. I know it's a learning process, it's his rookie year in Moto2 and I believe he is also working hard, even though he is not where he'd like to be. So, thanks to both riders, great job from Marco and the whole Moto2 team. As most of the paddock will have a week off for most of them in Asia, so enjoy, it's always sweeter with a good result! Japan is another chapter to open, where we can also fight for a top 10 position."