Following his start from the sixth row of the grid, Red Bull KTM Tech3's Marco Bezzecchi quickly made his way up to the top 15 at the sunny Motorland Aragon circuit today.
Through some hard duels, he managed to keep his position, bringing home one point and missing out on P14 by just 0.021 seconds. On the other side, Philipp Öttl had a decent start from 27th and was fighting in P23 before half time of the race, but unfortunately had to give way to some contenders to eventually cross the finish line in 26th.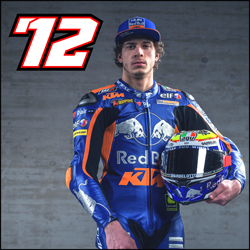 Position: 15th
Championship: 23rd
Points: 11
---
"The race today was very difficult, because it was hot and the grip dropped very fast, but it was the same for everyone. In the beginning I was with Gardner, so fighting for the top 10, but then I had a big drop of the front tyre and I wasn't able to manage the braking anymore and I was a bit in trouble. Therefore, I slowed down a bit and got passed by Manzi, but at least we finished in the points, which is important. We have to continue like this and try to make another step during the overseas to try to fight for the top 10."
Position: 26th
Championship: 33rd
Points: -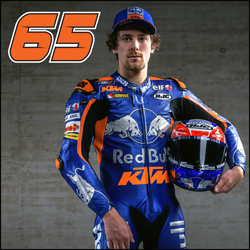 ---
"I'm very disappointed. We changed something on the bike compared to yesterday and I also tried to brake a little bit smoother, which is a big thing for me, as it is difficult to do that and push at the same time. We need to analyze the data now to find out what we did wrong compared to yesterday. I'm not happy about this race."
---
"A quite strong Grand Prix in Aragon for the Red Bull KTM Tech3 Moto2 team. I believe Marco is getting better and better round after round. One more time we reached Q2 and we've been fighting the whole race in the points. He lost position 14 in the very last lap, but still I think it was a good fight. He has been with Remy Gardner most of the race, who is a podium finisher this season, so clearly, we can see that Marco is learning, which is the purpose of a rookie season. He did a strong weekend, from FP1 to the race, so we could see that he has been showing consistency. He is happier with the bike. It's been a good weekend altogether. I know he likes the flyaway events, so it will be interesting to see what is happening there. He should also see what Brad (Binder) has done today to make his motivation increasing. We've got four KTM's in the points, which is quite a decent achievement. Good job to the guys, good job to the crew, it was a strong weekend for Marco. Philipp is a bit further down, but he carries on to push, to learn. It's not always easy, but he's got the right attitude, he doesn't give up, he shows positive spirit and we just hope that we can continue like this and hopefully score a few points before the end of the season. Get a few days off and see you in Buriram!"