Launching off the 12th round of his still young Moto2 World Championship career from P24, Red Bull KTM Tech3's Marco Bezzecchi showed a decent race in the scorching heat at the Silverstone circuit, to climb up the order throughout the tough 18 laps to eventually see the chequered flag in 19th.
On the other side of the Red Bull KTM Tech3 garage, Philipp Öttl was fighting a lot to keep upright, after he started from 28th. The German rookie eventually saw the chequered flag in P24.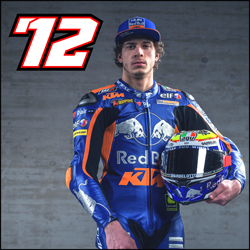 Position: 19th
Championship: 24th
Points: 10
---
"It was not the race, I expected, because I wanted a bit more. Overall, my rhythm was consistent compared to the Free Practices and I was also faster although we struggled to find rear grip. We tried to go with the hard tyre, because we found out, that we have less chattering with it. During the race, I was missing drive and grip and the bike was moving a lot, but apart from this, we worked very hard and also my riding was not bad. We still need to improve a lot, for me my rhythm was positive, so thanks to the team. Next up is my home GP!"
Position: 24th
Championship: 33rd
Points: -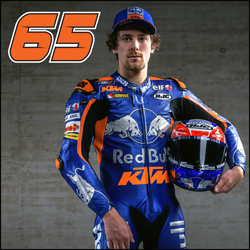 ---
"I'm disappointed, because all weekend long, we worked quite well and we were a bit faster. Our gap to the front was not too big, but in the race, I couldn't hold on to the bike after a few laps on this quite demanding track. I think, in Misano, we have to change something around the tank, because I just can't hold onto the bike longer than five or ten laps, depending on the track. We have to find some solution, because I think our general speed is quite good."
---
"First of all, I'd like to say great to see Brad Binder and the KTM Moto2 machine fighting again in front, leading the race and biting like a lion to end up on the podium after the masterpiece race he had in Austria. Regarding the Red Bull KTM Tech3 team, it's a bit less exciting, although I think Marco had an ok start and an ok race. He was fighting in a group that was almost in the points. I think the gap to the front was not very big and he never gave up, kept pushing. It was an interesting race, unfortunately outside of the points, but we know how tough and competitive Moto2 is, so just 'Thanks Marco for carry on pushing and hopefully it can be a bit easier in Misano.' Philipp is also pushing, he is also trying very hard, though he is not where he wishes to be, but I also would like to tell him 'Keep on pushing, keep your positive attitude. You are in your rookie season, you are learning, it's a tough class, but everybody is behind you. We need to continue to work as a team. Get a few days off, Misano will be another adventure and hopefully a better story!"