Following a shiny Warm Up where Red Bull KTM Tech3's Philipp Öttl topped the Moto2 field with using slicks on a drying track, the German rookie had a difficult start to the 11th race of the season, but made up some positions during the 25 laps to finally cross the line in P22.
Meanwhile Marco Bezzecchi made his way to the top 19 in the first laps, but came off track when fighting with Sam Lowes and had to regroup at the end of the pack. The Italian Moto2 newcomer eventually finished directly behind his teammate.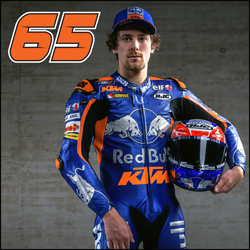 Position: 22nd
Championship: 33rd
Points: -
---
"My start was bad again, like in Brno. I think I released the clutch too fast. Afterwards, I picked up the pace and I was able to go a bit faster than normal. I found a good rhythm, but then the rear tyre started to jump a little bit and I started to struggle with the turning in the front. I tried to adapt my riding style to it, but it was difficult. Overall, it was not easy, but I finished with the smallest gap to the leader so far. I think this weekend was definitely an improvement overall, this morning was fine a s well. We keep improving tomorrow in the test and then move on to Silverstone."
Position: 23rd
Championship: 24th
Points: 10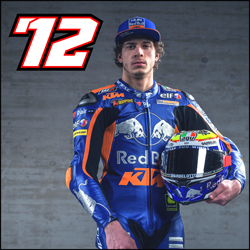 ---
"The start was very good. I was in a big group with Pasini, Lowes and others. When I was making my way through, overtaking some guys, in the braking of corner four I went a little bit wide and Lowes went just straight, so to don't collide with him, I had to pick up the bike and go through the gravel. Therefore, I lost all the positions, then I tried to recover, but I was too far away."
---
"Another tough race for the Red Bull KTM Tech3 Moto2 team, which was highlighted by an incredible race, an incredible success by Brad Binder on his KTM Moto2. This is a very special result the day, where we have now been informed that the factory will pull out of the Moto2 as a chassis manufacturer. Clearly, if you believe, if you work well with your crew, everything is possible and Brad showed it in the best possible way. It's difficult to understand how we are so far down. It's a pity Marco had this unfortunate incident while he was in a good group, but still it's a disappointing result. Philipp on his side did the best weekend of his Moto2 career so far and I'd like to thank him for this. We could see that he grabs every opportunity he can get, which we saw this morning in Warm Up. So, in a way it was an interesting scenario, but altogether we are frustrated and sad. There is for sure a strange feeling when you see an orange bike winning and you are so far down. We need to carry on working, we have a test tomorrow, where Marco will be given a brand-new bike to try and to understand in which direction to go for him and I hope he will be regrouping tomorrow, because today was a frustrating day for all of us, especially in front of so many KTM supporters. I'm glad Brad gave them what they were expecting and I'm glad, that he's showing the way to quite a few of us."