After he secured his best ever Moto2 grid position in the second row yesterday, Red Bull KTM Tech3's Marco Bezzecchi had a decent launch off the line in today's race. He got passed by a few contenders in the course of the first laps and was down to P14 before half time of the race.
But the Italian rookie kept a strong pace and fought back to see the flag in 12th and therefore score four further points in 2019.
On the other side of the Red Bull KTM Tech3 garage, Philipp Öttl had his race come back after he sustained a head concussion earlier in the year and had to skip 3 rounds in total. The German intermediate class rookie started from P31, had some trouble, but still managed to eventually reach 23rd on the line.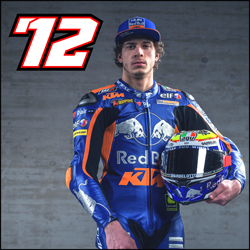 Position: 12th
Championship: 23rd
Points: 10
---
"Finally, it has been a good race. Starting from the front is a lot easier, because you are not in the rush of the first lap, but anyway, I got passed by some fast riders that where behind me. I tried to stay with them, but in the beginning I was not fast enough. Then when the rhythm was more stable, I was able to keep consistent lap times and, in the end, I felt good. Overall, I'm very happy. Now we try to fight again next week."
Position: 23rd
Championship: 33rd
Points: -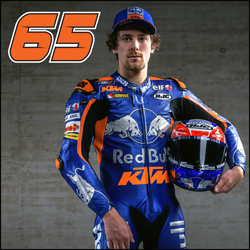 ---
"The race was very difficult. I felt less grip compared to this morning in Warm Up, where we found a step into the right direction. I think, we found this step a little bit too late, but anyway it was positive. We lost three races and it takes some time to come back to full speed, but for sure, I expected a bit more here."
---
"Great weekend altogether for the Red Bull KTM Tech3 Moto2 team here in Czech Republic. By far, we had the best Qualifying of the year so far. The second row was a great result last night. We knew, it was mainly due to Marco's ability to deal with tough track conditions, so we were not so sure about what was going to happen on Sunday, because the weather was clearly going to be dry, but he did an amazing job. For sure, the boost to start from second row is huge. He had a good start with a really strong pace and I was expecting him to drop a lot more, but he didn't drop, instead he was fighting with really fast guys and I think today, by far this has been the best race for Marco since he joined the Moto2 class. I'd like to thank him and the whole crew for never giving up, for believing. I know it's a tough year for a rookie at first and then fighting to develop new material, but he kept his nerves and he has been pushing, doing very constant lap times and finishing 12th, he got four points and managed to catch Baldassarri, who was a title contender earlier on and kept Martin behind, so I'm sure he's going to have a big boost for the next round, which is the very important home GP for Red Bill and KTM, but more important than anything is to put a smile on Marco's face. We do rate Marco as a future top Moto2 rider. To be honest, the start of the year was difficult, but the first page of the second part of the year is now much brighter. Still, we have a lot of catch-up to do on the technical department, but you can only do it if you have a positive attitude. So, congratulations to Marco, congratulations to his crew: 'Celebrate tonight, but not too much, because we have another round to do!' On the other side, we are very happy to have Philipp back with us. We were worried, because he has been missing three races, but he is now back in full fitness. It's difficult to get the right pace at the moment, but we have another race in a few days and I'd like to thank him for his dedication and we are going to do everything we can for him to get closer to Marco."