In a nail biting Dutch Grand Prix, Red Bull KTM Tech3 rider Marco Bezzecchi collected his first ever Moto2 World Championship points with a well-deserved tenth position.
The Italian intermediate class rookie quickly found a strong rhythm and was improving on his 20th starting position lap by lap. Halfway through the race, he found himself already fighting for the points scoring positions and eventually ended up in tenth following 24 demanding and hard-fought laps.
Philipp Öttl had to withdraw from the Dutch Grand Prix, as he still didn't feel well after his concussion sustained in Barcelona two weeks ago.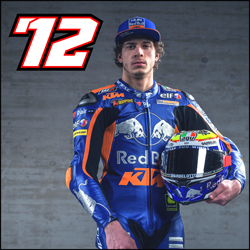 Position: 10th
Championship: 22nd
Points: 6
---
"The race was very difficult, because I was struggling to control the rear. Overall, with the wind, the bike was shaking everywhere, also in the straight and it was very difficult to keep up with the guys in front. I was on the limit and hit neutral some times, but I tried to stay on the bike. Finally, I got my first points, which I'm very happy about. Anyway, we still have a lot to do. A huge thank you to my guys and KTM!"
---
""Finally a weekend, where we can have a big smile on our faces for the Red Bull KTM Moto2 team. I have to say that Marco was closer to the front guys the whole weekend and clearly, we've told him last night 'put your head down, don't do anything too much, try to finish the race, understand, learn, keep your rhythm and it could be an ok result.' Instead of an ok result, it's a great result. For sure, we've been helped by a few racing incidents, but to finish your first race in the points with a top 10 position, means a lot. Marco is a rookie, he's got a lot to learn and we help to develop the bike. So, it was never going to be an easy year. It's only round eight and nothing is lost. The start of the season was tough. This is not, what we were expecting, but I believe there are some good things to come. Today we set the first stone, but I hope we are going to have much more to build a nice wall by the end of the year. So, I want to say congratulations to Marco and the whole crew! I feel very sorry for Philipp not being here, because I think he could have been also in the points with what we saw. We wish him a very speedy recovery! I know this is not an easy situation, he is in, because he is not clearly injured, so it is very difficult to be in that kind of situation. We hope he finds the right balance soon and we can see him back in full fitness soon. Anyway, a great day for us. We all move to beautiful Germany now with a smile on our faces."