Red Bull KTM Tech3's Marco Bezzecchi showed some good steps into the right direction on day one of the Dutch Grand Prix. Throughout the opening day, he gained some confidence in order to complete the second Free Practice of the day 0.549 seconds off the points scoring positions.
Following his crash on Friday during the Catalan GP two weeks ago, Philipp Öttl didn't feel fully fit again after this morning's FP1. Therefore, the Red Bull KTM Tech3 rider went to the hospital this afternoon in order to undertake further examinations. The German Moto2 rookie didn't take part in FP2 today. At the moment, the Red Bull KTM Tech3 team waits for positive news from Öttl and will announce them as soon as possible.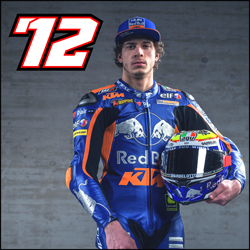 Position: 22nd
Time: 1:38.556
Laps: 35
---
"Compared to Montmelo we started a lot better today. This track is a bit strange, because normally the KTM works better on a stop and go layout than on a flowing one like this, but still it went quite well. We keep working on some things like the change of direction, anyway, we are not too far from the front. The field is very close together, so we surely need to improve tomorrow, because everyone else will be quicker again. Therefore, we need to make a big step. Let's see."
Position: 30th
Time: 1:40.899
Laps: 19