Red Bull KTM Tech3's rookie duo of Philipp Öttl and Marco Bezzecchi completed their first intermediate class race today under the floodlights of the Losail International Circuit in Qatar.
Öttl, who launched off from P29 on the grid, did steady 20 laps to eventually see the chequered flag in 23rd position. Meanwhile Bezzecchi unfortunately went down in the hustle of the first lap, but picked his bike up again and did lap times, which were nearly matching the top 15 later during the race. After making up more than 30 seconds, he ended up in P26.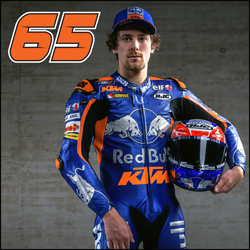 Position: 23rd
Championship: 23rd
Points: -
---
"We saw some small improvements today again, but when I wanted to try to go faster, I was behind a slower rider, who stopped me in the last two sectors. Overall, my riding is improving, in every session I feel better. The race tomorrow will for sure be important to watch the more experienced riders and learn from them. The team did a very good job and now we focus on tomorrow."
Position: 26th
Championship: 26th
Points: -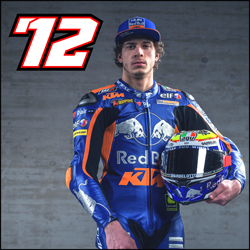 ---
"This Sunday was another difficult day, but all the team and the guys from KTM were working really hard. During Warm Up we found something interesting, especially in my riding, but when I just understood it a bit more, I crashed. In the race, I didn't have the best start, but after I was confident with myself and also with the bike, as I felt immediately good from the first corners, but unfortunately, I touched another rider and went down. Then I was able to restart the race, also if I had pain in my leg. During the race I tried to push to learn more and I improved my riding a lot and in addition I was very consistent. The result is for sure not good, but I look forward to arrive in Argentina now, which is my favorite place."
---
"Finally, we got our first race of the 2019 season behind, which was Moto2. We knew after the tough testing during the winter, that a top 15 position would be very difficult, but we were really waiting for this race for the riders to do full race distance, to learn a lot and follow the other riders and trying to improve their riding style in order to understand the Moto2 better. We were very disappointed to see Marco crashing on the first lap, because clearly, it was important to finish the race. In the end, it had nothing to do with him, but he was hit by another rider, which is always the problem, when you start so far back. That was a big shame, but fortunately we saw him rejoining the race. The bike was a bit bent, but he pushed and pushed and I think this is the best thing he's done since joining the Moto2. The lap time was quite competitive and I believe it would have been very close to a top 15 position without the crash. Now he's got quite a lot of pain in the leg, but we have to take the positives. We don't want to see the glass half empty, it is half full. Philipp didn't have the best start in the world but managed to stay on the wheel, pushed and I believe learned a lot, but clearly, we didn't have the pace to be classified higher. He is very motivated, is going to fly back to Germany to ride, to learn again what to do, to digest all the information he got during these two weekends here in Qatar. Again, let's be positive; Argentina has a very interesting track and I really hope Marco and Philipp will be faster. We know it's a long process and the top of the Moto2 has been in this class for quite a few seasons, so we have to continue with our two rookies to learn, to develop and moreover show them we are behind them and trust them to do the job everybody is expecting them to do."